John Bukaty: Artist
Live Art | Bookings | Originals & Prints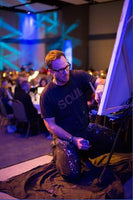 Live Performance Artist
John Bukaty sees life, and the special events it's made of, in distinct moments. He sees things one frame at a time. Whether it's the enjoyable chaos of a music festival, the intense competition of a college basketball game, or a tender moment at a family event, Bukaty sees them all, in portraits. And like a distortion pedal that adds fuzziness and growl to a guitar, Bukaty translates these singular sights onto a canvas using a method of blurred lines and vibrant colors.
Book Your Next Event with John Bukaty
Find out why John is the most exciting, interactive artist for your next event!
Book Now!